Harvest Festival
At our Family Servie on 8th October we wil be collecting for Bromley Borough Food Bank.
We will be very grateful for donations. The Food Bank is especially asking for the following:
UHT Milk, Coffee, Squash, Fruit Juice, Jam, Desserts, Sweets, Savoury Extras , Jam,
Rice Pudding, Custard, Tinned Fruit, Tinned Veg, Tinned Soup, Tinned Tomatoes,
Hot Meat/ Cold Meat, Tinned Potatoes, Rice Packet, Cooking Sauces, Toilet rolls,
Multi-Surface Wipes, Multi-Surface Sprays, Shampoo, Conditioner, Shower Gel,
Shaving Gel, Razors
Food Collection Box
Many people are still finding it hard to make ends meet so there is still a need for generous donations to the foodbank.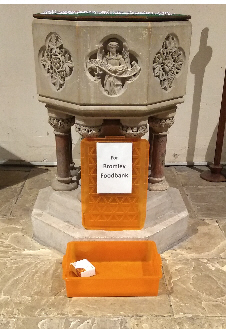 There is now an orange plastic box with a lid at the back of church. This is for the collection of donations of food for the Bromley Foodbank. They will be particularly pleased to receive tins of meat, fruit and vegetables as well as anything well within the sale by date. This is being organised by our branch of Mothers' Union who will keep you informed about items that are particularly needed.
Food banks will also be grateful for essential non-food like toiletries and hygiene products.
CURRENTLY URGENTLY NEEDED FOOD ITEMS:
*PLEASE DON'T SEND US FROZEN OR CHILLED ITEMS AS WE DON'T HAVE THE CORRECT STORAGE FOR IT AND IT SPOILS BEFORE WE CAN DISTRIBUTE IT*
DESSERTS
TINNED COLD MEATS
SQUASH/CORDIAL
UHT FRUIT JUICE
TINNED TOMATOES
COOKING SAUCES
WASHING UP LIQUID